Los Angeles
Big Win for Hotel Housekeepers in Santa Monica!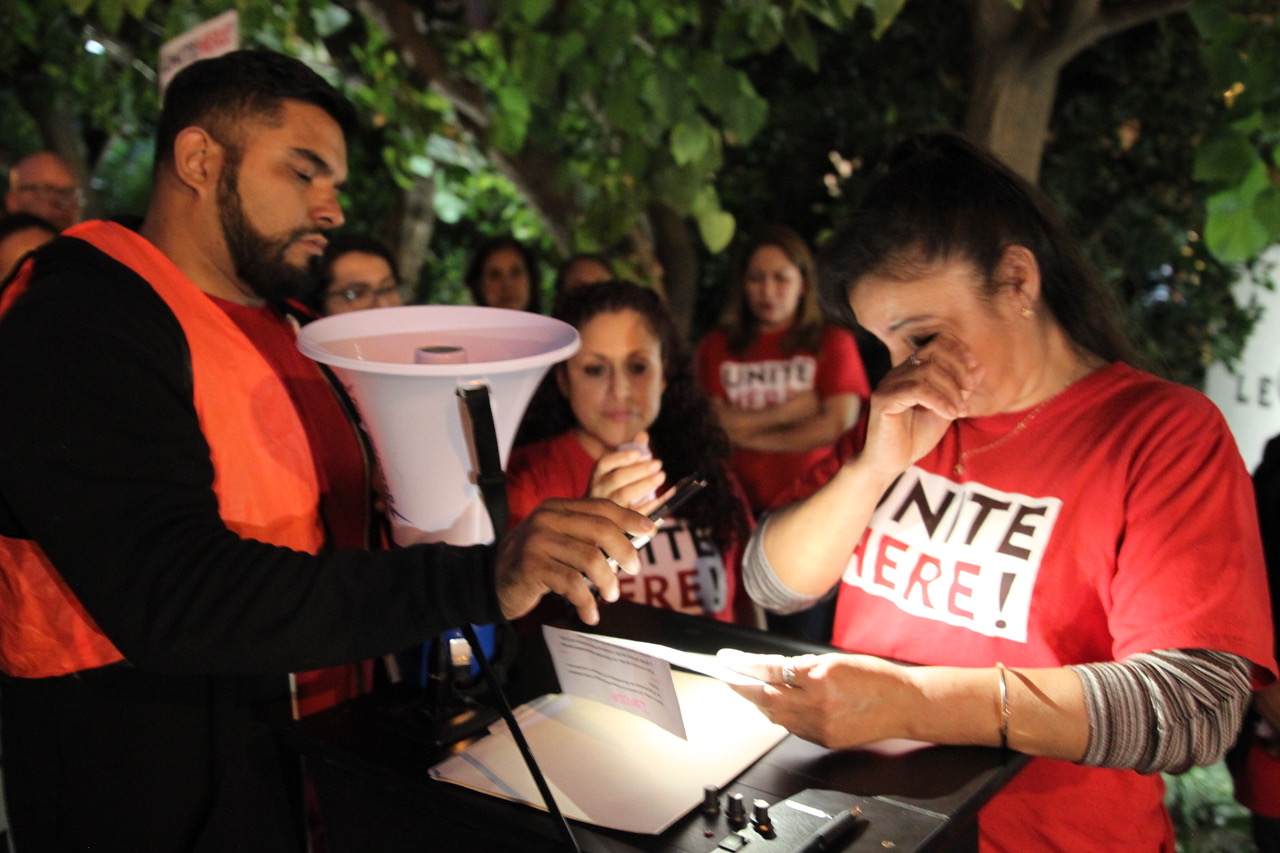 A Le Merigot worker shares a story as part of a "Service in the Streets" in 2018.
Five years into a bitter fight to secure a contract, hotel housekeepers at Le Merigot have reached a historic agreement that offers living wages, family health insurance, and pension benefits.
Benefits like these are increasingly rare. Every worker deserves them.
Clergy and community members from across Los Angeles supported the mostly female/Latina workers throughout the process, holding prayer vigils and protests, accompanying workers as they met with managers, and more.
This news is breaking, and we look forward to sharing more. Until then, thank you to EVERYONE who played a part in supporting this campaign for dignity and justice!
COVID-19 Vaccine and Faith Spanish Webinar
Dr. Lucia Abascal of CDPH, Virginia Gaglianone of CDPH, and Reverend Walter Contreras of CLUE discuss COVID-19 Vaccine and Faith on December 30th, 2021.
On December 30th, CLUE hosted a Facebook Live Spanish webinar on the discussion about COVID-19 Vaccines and Faith in partnership with the National Latino Evangelical Coalition, and the California Department of Public Health (CDPH) Vaccinate ALL 58 Campaign. To access the recording on this important discussion with the Reverend Walter Contreras and Dr. Lucia Abascal from CDPH and Virginia Gaglianone, spokesperson for the Vaccinate All 58 campaign, CDPH, click here→ Vacúnate con Fe FB Live Recording.
For more information, please contact Rev. Walter, wcontreras@cluejustice.org
Orange County
Explore the

roots and fruits of economic justice

in the

Jewish tradition

online with us this Sunday!
Join interfaith religious leaders to celebrate the Jewish roots of worker justice movements in America this Sunday night at "CLUE. b'Shevat," a special T"u b'Shevat Seder with music, readings, guest speakers, and personal testimonies from workers in the field.
Immigration
Dignity and Justice for

Immigrants
Clergy and Laity United for Economic Justice mobilizes clergy and community to show up in the struggle for dignity and justice for immigrants. You are invited to join. Email gtorres@cluejustice.org to receive action alerts.
Shut Down Adelanto

Coalition
CLUE is incredibly honored to have received a Certificate of Special Congressional Recognition for its immigration justice advocacy and work with the Shut Down Adelanto Coalition on December 20.
For more information, please contact Guillermo Torres, gtorres@cluejustice.org
Solidarity is

Sacred
Clergy and Laity United for Economic Justice educates, organizes, and mobilizes faith leaders and community members to walk with workers as they stand up for good jobs, safe workplaces, and healthy communities.
We can accompany low-wage workers—mostly immigrants and communities of color—because people like you support an organized, connected interfaith movement for economic justice.
Please join the movement to build an economy that works for everyone, not just those at the top.